a12iggymom's Blog
Many Shows Here: http://www.blogtalkradio.com/thecapt
November 21, 2010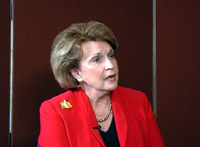 Nancy Shaefer, an outspoken child advocate, was brutally murdered in March. To shrug this off is to accept an evil tyranny.

"The family is the natural foundation for marriage and home relationships. The family deserves and should always be protected by the state, the culture and by society." The late Sen. Nancy Schaefer – See more at: http://www.henrymakow.com/child_protective_services_rack.html#sthash.2lssgdxV.dpuf
by Richard Evans
for henrymakow.com

In 2004, Georgia State Senator Nancy Schaefer found evidence of deep corruption within the Federal 'child protective services' system which handles children designated as 'wards of the State'. In 2007, she published her findings which, she said later, "cost me my Senate seat." It may also have cost her life.
During the night of March 26th 2010, Nancy was shot execution style in the back of the head in her bed. Her husband of 54-years, Bruce Schaefer was shot point-blank…
View original post 1,269 more words