a12iggymom's Blog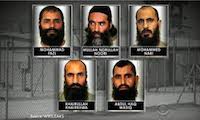 Appearing on MSNBC's Morning Joe, Georgia Senator Saxby Chambliss became the latest to condemn President Obama's prisoner swap, saying al-Qaida is celebrating the return of its most powerful commanders.
"Two of them were extremely close to bin Laden, very high in the al-Qaida echelon," the Republican told MSNBC. "Three of them are very close to Mullah Omar, the guy that founded the Taliban.
Chambliss, the ranking member of the Senate Intelligence Committee, co-signed a letter with Democrat Dianne Feinstein three years ago requesting the five men released this week be kept in American captivity.
MORE: http://www.gopusa.com/news/2014/06/06/chambliss-we-gave-away-bin-ladens-top-generals/